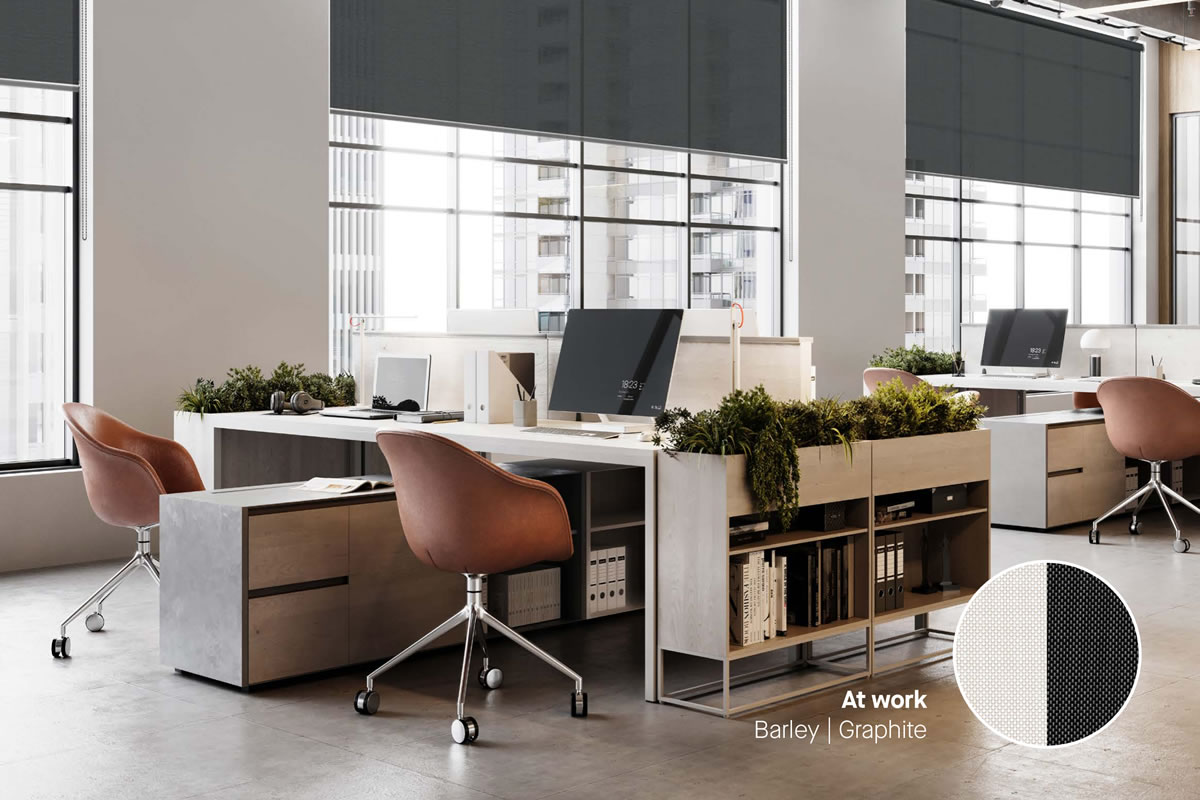 When it comes to commercial spaces, don't underestimate the importance of quality window treatments. Our experts explain the key things (and the ideal fabrics) to consider when it comes to commercial window treatments.
Sunscreen and light filtering commercial blinds
It sounds a rather trivial concern, but light glare has a suprising amount of impact on productivity. Our sunscreen and light filtering office blinds allow the workspace to remain comfortable no matter the season (or time of day). Our easy-to-adjust blinds suit every area within a building.
Motorised commercial blinds
From lofty atriums to display spaces, Aspect motorised commercial blinds add impact. Along with being eye-pleasing, these cordless roller blinds offer many practical benefits – including the option of setting them on a timer to suit specific working or opening hours. They are an ideal safety and privacy choice.
Blockout commercial window treatments
Our blockout roller blinds can be easily adjusted to screen out the natural light, making them a superb option for presentation areas such as boardrooms and meeting rooms. Relaxation zones, like beauty and day spas, can also benefit from this window treatment choice.
Blinds for residential developments
From boutique high-end to large-scale residential developments, you'll find the perfect fabric for your interior scheme from our extensive range. Aspect's textured and patterned textiles are inspired by the latest European design trends. Our neutral fabrics are an always-popular choice for their functionality and durability.
Specialist commercial blind fabrics
Along with offering an eye-pleasing look, our innovative commercial blind fabrics include:
Fire-retardant options which abide by the NZ Building Code
Sanitized Protection treatment to prevent mould and mildew gathering
Greenguard certified textiles to help maintain a healthier environment
These specialist fabrics are a popular choice for projects such as schools, childcare, healthcare and aged care facilities.
Commercial window blinds with guaranteed quality
At Aspect, we work alongside top New Zealand interior designers and interior architects to create commercial spaces that invite and delight – while always being perfectly practical.
Our leading-edge manufacturing also allows us to produce commercial blinds for unconventional areas, such as large-scale glazing or skylights.
The entire Aspect Blinds and Shutters range is renowned for product quality and superb customer service.
Getting a free commercial blinds quote
Our experienced retailers make the process of selecting and specifying commercial blinds simple and easy. For a free quote, complete our quick form now.