MARUPA WOOD VENETIAN BLINDS
---
Our Marupa wood raises the bar on venetian blind lightness, longevity, and value for money.
These blinds are reliable, highly functional, and decorative window treatments - fully adjustable to get the desired light ambience in a room.
Marupa wood venetian blinds are much lighter than PVC blinds
Extra heavy UV coating to look great for longer
Venetian blinds are designed to be a static blind, kept in the down position, with the blades tilted to provide control over the light direction. They should only be lifted on occasion, with a hand assisting the bottom rail, to clean or open windows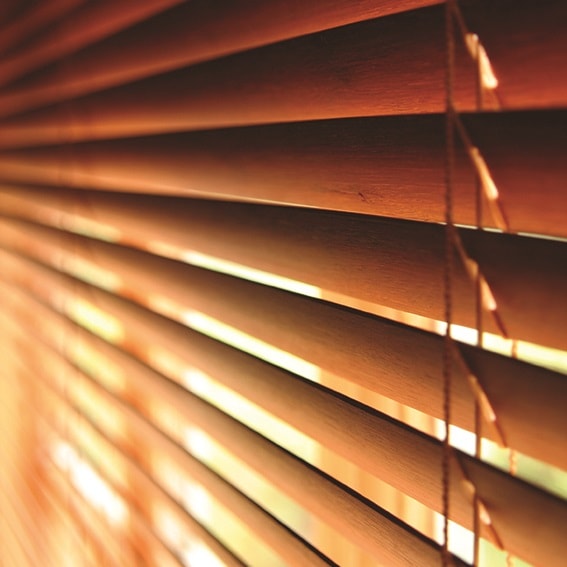 ---
COMPONENTS
Slat width: 50mm or 60mm
Slat thickness: 3mm
Valance (fascia): 75mm high x 6mm thick, flat design
Head rail: standard high profile 57 x 51mm
Bottom rail: 60 x 16mm
Cords optionally on left or right as required
Installation items included: brackets, screws
UV protectorant: heavy-duty UV coating
Product variation: being a natural product, minor variations may occur from item to item
INSTALLATION
We can supply easy-to-follow instructions
OPERATION
Separate cords for pull-up and tilting of slats
Slats tiltable to 180 degrees - from clear view to blockout
CLEANING
Remove dust from blinds with vacuum cleaner or compressed air
Clean with damp cloth
Do not scrub, or use solvents or any abrasive substance to avoid damaging slat coating
COLOUR RANGE
White
Off White
Porcelain
Mist
Honey
Light Oak
Dark Oak
Walnut
Black
There is matching of valances and bottom rails for a perfectly integrated presentation.
We recommend avoiding dark coloured Venetians in north facing or sun drenched window's.
Set light for optimum comfort
By tilting of the slats, you can create the exact light ambience you want. Setting these blinds to full tilt blocks the light and creates privacy at night. By pulling them right up, an unrestricted view is possible.
Sound hardwood from environmentally friendly sources
Marupa comes from sustainable plantations, unlike other timbers that are getting scarcer in quantity and quality. It's also more stable and doesn't warp as much as other woods and fauxwood.
Unique 75mm flat fascia design
Fitting in with contemporary home décor, this design completely covers the high-profile head rail, giving a better finished appearance.
REQUEST A FREE QUOTE
From Approved Aspect Retailer