ALUMINIUM VENETIAN BLINDS 25MM
---
These finer-look venetian blinds are reliable, highly functional, and decorative window treatments - fully adjustable to get the desired light ambience in a room.
Harsh sunlight and heat excluded during the day, while indoor warmth retained at night
Smart appearance that adds finesse to a room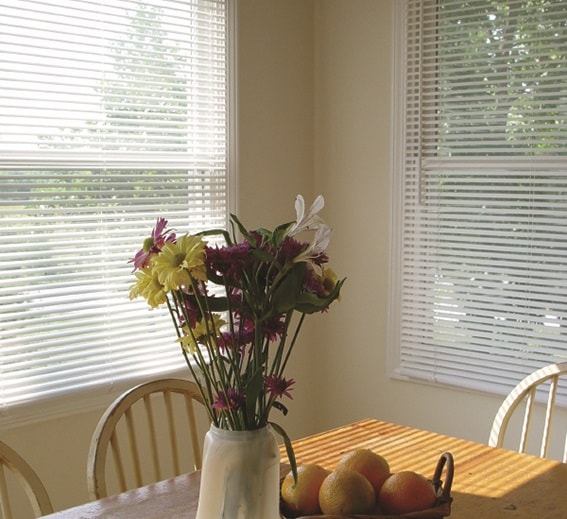 ---
SIZE
Minimum Width: 300mm
Maximum Width: 3,000mm
Maximum Drop: 3,000mm
Maximum area: 8m2
COMPONENTS
Slat width: 25mm
Slat thickness: 0.021mm
Head rail: 19mm x 27mm
Bottom rail: 'C' shape cross-section
Installation items included: brackets, screws
Slats are high tensile aluminium for extra strength and crease resistance, stove enamelled to retain original colour and brightness throughout blind life
Head rails and bottom rails are powder coated aluminium to increase strength and blind life span
INSTALLATION
Easy to lift, installed in minutes with easy-to-follow instructions on request
Wand on left for tilting of slats, with cords on right for pull-up/ down, or vice versa
CLEANING
Clean Aluminium blinds by closing slats and using feather duster, soft brush or cloth. You can also use a vacuum cleaner on low setting
Clean stains with damp cloth, or gently spray-clean and allow to dry thoroughly
Professional cleaning services can be employed using ultrasonic technology
COLOUR RANGE
St Clair
Morton
Off White
Silver
Sterling
Taupe
Pewter
Black
These blinds have colour matching of headbox and bottom rails and cords for an integrated presentation.
Precise control of light and temperature giving you power savings
Slats can be opened to let the cool breeze through or closed a bit to reduce cooling bills by reflecting the sun's heat. An unrestricted view is possible by pulling blinds right up. At night, fully tilting slats can block light and create total privacy – conserving heat in your room.
Clever design and cost-efficient manufacturing
A new tape roll support and internal tape lock button speeds up assembly, and a protective film on the head and bottom rails prevents scratches when handling and delivering.
Long-lasting resilience with environmentally friendly materials
All blind slats are stove-enamelled and will retain their original condition without creasing. They are the highest grade of aluminium alloy - with up to 20% recycled material.
Keep that fresh colour and pristine condition in your furnishings
With finely spaced slats, these blinds efficiently reflect harsh NZ sunlight, yet allow a good light level in your room - keeping your furniture and floor coverings in that original fresh condition.
REQUEST A FREE QUOTE
From Approved Aspect Retailer