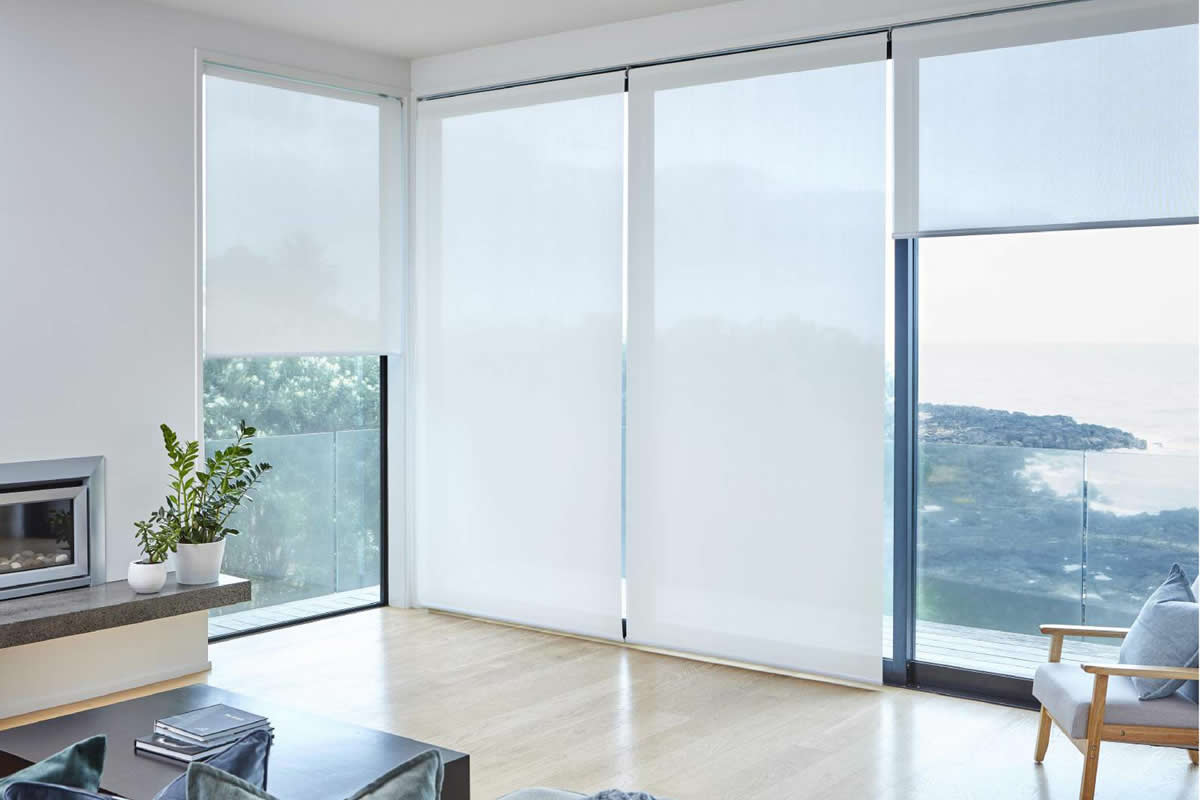 From pure white to misty grey, neutral colours are always among our most popular roller blind fabrics. It's a classic choice for any interior. As our design experts explain, neutrals are never boring – especially when you inject a little texture! Read on to discover some of our most stylish choices.
Luxurious textures
Touchable textured fabrics take your roller blinds to the next level. From woven finishes to linen-looks, each brings an elegance that elevates and enhances your interior décor.
Our favourites – 'Aventus', 'Linesque' and 'Jersey'
Lustre and shine
Our semi-sheen textile options add a sophisticated finish that is ideal for any residential or commercial space. You'll find a contemporary colour palette ranging from whites and off-whites through to rich charcoal and intense black.
Our favourites – 'Karma' and 'Balmoral'.
Helping towards a healthier home
Along with looking lovely, our specially crafted fabrics are ideal for those with allergies or asthma. The Aspect Greenguard certified range even meets strict chemical emission limits to help you achieve a healthier home.
The Aspect design team have also hand-picked textiles featuring Sanitized Protection. This eco-friendly protective layer prevents your roller blinds gathering mould and mildew.
Our favourites – 'Orora FR', 'Sanctuary' and 'Aventus' (Greenguard certified); 'Kleenscreen' (features Sanitized Protection).
Getting your beauty sleep
Many of our best-selling neutral roller blind fabrics offer blockout-weight coating to prevent light disturbance – ensuring you get a sound night's sleep. You'll also find light-filtering options that soften the harsh Kiwi sun, helping protect your flooring and furnishings from fading.
Our favourites – 'Karma' (blockout); 'Linesque' and 'Palm Beach' (blockout + light-filtering).
Perfectly practical
When you choose Aspect roller blinds, you can be confident those good looks will last! We select only the finest polymer fabrics to ensure each is easy to clean, durable and long-lasting. In fact, we're so confident about the quality of our textiles that we offer a 5-year warranty across our entire roller blind range.
Upgrade your home décor now by getting a free quote
You'll find our friendly team are always happy to help with any questions that you may have when it comes to roller blinds. For a free quote, complete our simple form now.
Prefer to see our fabric swatches? You'll find our range featured by leading window treatment retailers around New Zealand – including Guthrie Bowron, Colourplus, CurtainStudio, Harrisons and Spotlight.