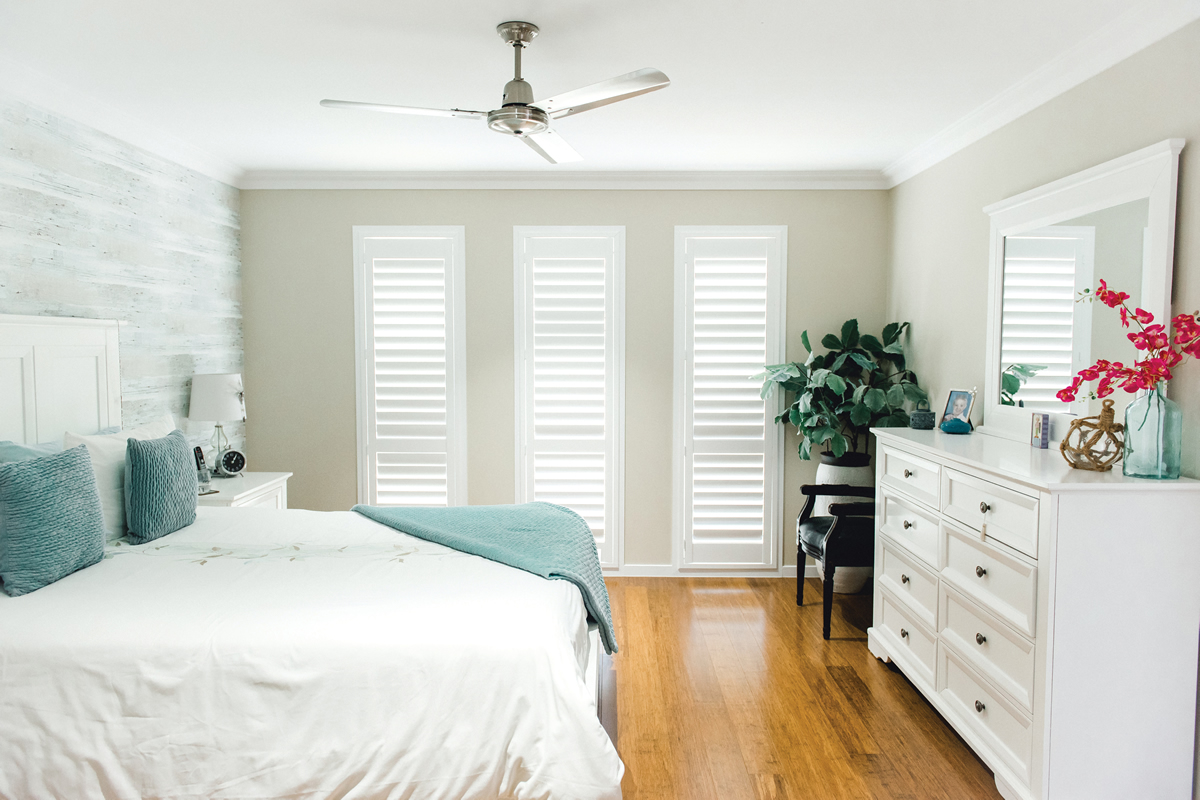 Just like selecting the perfect paint colours, choosing the ideal window treatment can help you make the most of any space. With so many options available, our experts have some handy advice to help you make the right decision – starting with how to use window blinds or shutters to affordably solve some common interior woes.
Solution #1 – Fixing a small and dark room
Maximising the natural light is key when you're working with a smaller footprint. Look for a window blind like our Honeycomb window blind range. The slim profile design avoids taking up precious headroom on your windows. Along with looking gorgeous, its clever cellular design makes Honeycomb blinds a smart choice for keeping you warm in winter (and cool in summer).
Solution #2 – Getting a better night's sleep
Finding yourself waking less than refreshed or frustrated with early-morning wake-ups? Before you blame it on a bad habit, check whether light disturbances could be the culprit. We naturally sleep better in a completely dark environment. Outside mounted back rolled Blockout roller blinds could be the ideal (and cost-effective) solution to ensure you rest easy. Outside mounting will cover your windows entirely and overlap the sides for extra light blockage.
Solution #3 – Adding convenience without compromising on style
Motorised blinds remove the need for window blind cords – making them ideal for nurseries and kids' bedrooms. They're also ideal for those with limited mobility or dexterity issues. Another serious perk is the 'wow' factor that they add to your home. Motorised blinds are also a clever choice for caravans and campervans.
Solution #4 – Finding a cost-effective option when you've got a lot of windows
Who doesn't love the idea of a glazing galore in your home? The only problem is that it requires equally plentiful (and often costly) window treatments! Wooden or plantation shutters are the perfect pick for areas with lots of windows. You'll be impressed with the luxe looks, quality, and affordability of our stylish Uno wooden shutter range.
Solution #5 – Creating an outdoor living space year-round
As Kiwis, we sure love getting outdoors. And it couldn't be easier to transform your deck or patio into an outdoor living space that you can use year-round. Just install aluminium exterior louvre shutters. Along with being durable and robust, they look simply lovely. You can even choose from hinged panels, bi-fold and sliding systems.
Like to get a quote for window blinds or wooden shutters?
To take a closer look at our extensive range and request a quote, use our handy search feature to find your nearest Aspect Blinds and Shutters retailer now.