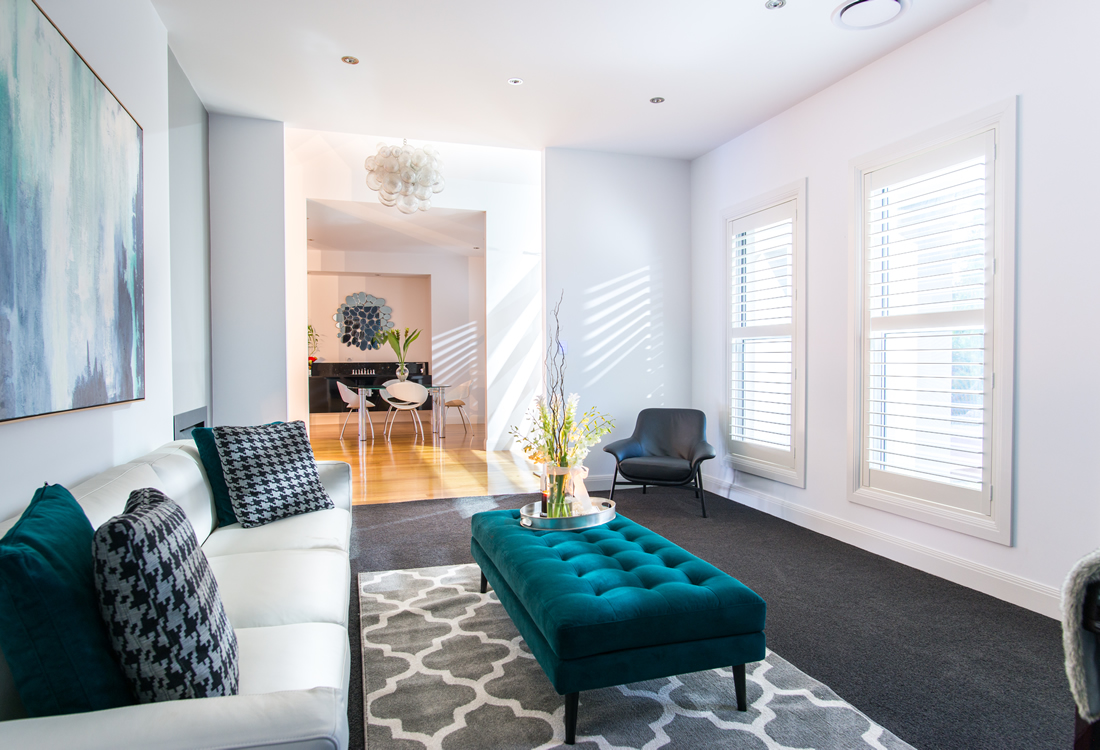 If you want to transform a room or outdoor area, there's no easier way than ordering new window shutters! Along with adding instant elegance to your home, shutters offer the unique benefit of letting you fully open a window to enjoy the breeze while easily controlling the amount of sunlight inside.
There are a few things to think about when it comes to choosing your perfect shutter combination. From the type of material to colour selection, our window treatment experts explain the different options and some important things to check with your manufacturer before you place your order.
Choosing the right materials
From classic wood to waterproof Polymer/PVC and hardy aluminium, the materials you select for your window shutters should depend on your home and your needs. Here are a few of questions to get you started:
Is quality a key decision for you?
Wood and Polymer shutters offer good looks, superb quality and durability.

Is thermal insulation an important criteria?
Polymer shutters, and some specific types of wooden window shutters, will keep your home warmer in winter and comfortable in summer. Aluminium options, however, do not offer any thermal insulation benefits.

Do you plan on adding them in an outdoor area?
Choose aluminium shutters.

Would you like to use them in a bathroom or laundry?
Opt for polymer shutters, which are waterproof.
Colour choices
Shutters are generally offered in a classic colour range of whites and off-whites. If you have a specific shade in mind, most shutters can be custom painted to a particular hue at an additional cost. Aluminium shutters need a minimum of 10 sqm to achieve a custom colour. You can also choose a wood grain option for this type of material.
Why framing matters
Minor dents, dings and bowed wood in your window jambs are just some of the imperfections that shutters can hide. The custom-made frames slot around your existing joinery to deliver a perfect finish.
While you can choose to have a frameless window shutter, it can cause a few issues. Without the frame to fully support the weight and positioning of your shutters, the panels may drop over time so you lose that perfect alignment.
Versatility
Shutters are one of the best options for windows that aren't the standard square or rectangle size. From raked to arched shapes, they can be made to suit your exact window proportions – giving you light control that enhances each window, rather than obscures it.
Using your shutters properly
Now you have your gorgeous window shutters installed, it's important to use them correctly. Unlike curtains or blinds, the entire shutter panel is designed to stay closed as much as possible (unless it's time for a window clean). You can, of course, adjust those shutter slats as much as you would like!
Getting the best result
Here are a few important insider tips from our Aspect shutters team.
Wanting wooden shutters?
Check the company manufacturing your window shutters is using 'true' wood – and not a man-made MDF product.
Prefer Polymer/PVC shutters?
Make sure you ask your shutter supplier for a certificate confirming there are no hazardous substances in the PVC they are using.
Asking for aluminium shutters?
Keep in mind that their looks reflect that they are commercial-grade, which is why most people choose to install them in outdoor areas.
Use a reputable manufacturer – don't be afraid to ask questions
Avoid any options which appear suspiciously cheap!
View the range today
Along with offering good looks and versatility, window shutters can be a surprisingly affordable option. To learn more, visit your nearest Aspect Blinds & Shutters retailer to view our extensive range today.